Security forces in Sudan have mounted a fierce crackdown in recent days to crush remaining unrest, six months after a coup that brought a military regime to power in the unstable strategic country.
Police fired teargas and shotguns at protesters as thousands took to the streets in the capital, Khartoum, and twin city of Omdurman on Monday. The violence followed a similarly harsh response to demonstrations over the weekend. In all, 113 people have been injured and one killedin recent days, according to doctors.
Ninety-six protesters have been killed since the coup in October last year, and more than 1,500 detained.
Security forces have carried out a wave of arrests targeting the resistance committees, a network of informal associations that have organised most of the protests. Nazim Siraj, a high-profile pro-democracy campaigner known for organising medical assistance to injured protesters, was detained on Sunday.
"In the last few days, they have increased the arrests. Two from our [resistance] committee were taken at the weekend. There have been lots of other people taken. We are keeping a low profile these days," said Yousef Abdallah Adam, a 35-year-old painter and decorator who leads a pro-democracy "resistance committee" in south Khartoum.
Legal representatives said 80 people associated with the protest movement had been detained in less than two weeks. Many have been dispersed to prisons around the country, often hundreds of miles from their homes.
"The authorities believe the wave of arrests will have an impact on the momentum of the protests but the resistance committees will continue to exercise their right to peacefully protest despite the pressure on them," said Osman Basri, of the Emergency Lawyers' Association in Khartoum. "They will not stop until they achieve a civilian government".
The October coup came two and a half years after the 2019 popular uprising that led to the fall of the veteran dictator Omar al-Bashir and derailed Sudan's move from a power-sharing arrangement to democracy. It prompted massive protests, with huge crowds in streets in cities across Sudan denouncing both the military takeover and a subsequent deal that reinstated the prime minister, Abdullah Hamdok, but sidelined the pro-democracy movement. Hamdok resigned in January, saying he was unable to work with the military.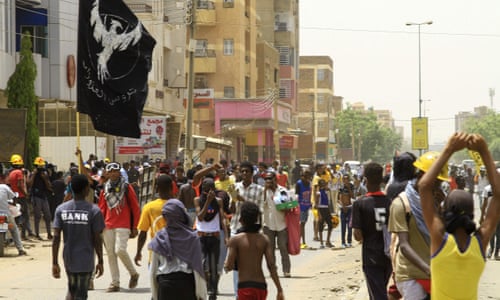 Though protests this weekend were the largest for some time, the pro-democracy movement is struggling to mobilise big crowds.