Thousands of Israeli Jews are due to hold a march through Muslim areas in Jerusalem's Old City amid Palestinian warnings it could trigger violence.
The annual event comes at a time of particularly high tensions following months of deadly incidents.
The Flag March takes place on Israel's Jerusalem Day, celebrating its capture of East Jerusalem in the 1967 war.
Israel regards the whole of Jerusalem as its capital, something rejected by most countries and the Palestinians.
The status of the city goes to the heart of the Israel-Palestinian conflict. The Palestinians claim Israeli-occupied East Jerusalem as the capital of a future hoped for state of their own, though Israel says the city will never be redivided.
Last year, a devastating 11-day conflict between Israel and Palestinian militants in Gaza erupted on Jerusalem Day when Gaza's Hamas rulers fired rockets towards the city after Israeli police and Palestinians clashed at a holy site in the Old City.
Last week, Israel's public security minister said marchers would be allowed to enter the Old City through Damascus Gate which leads into the Muslim Quarter – a decision which was condemned by Palestinians. Last year marchers were not allowed to use this route due to the volatile situation.
After the route through Damascus Gate was authorised, Hamas and the smaller Gaza-based Islamic Jihad group warned that "Jerusalem and the holy sites are a red line", saying they would "use all options to defend our people and holy sites against Zionist [Israeli] assaults".
Most of the marchers will pass through Damascus Gate, while a smaller number will enter through Jaffa Gate between the Christian and Armenian Quarters, with both converging at the Western Wall in the Jewish Quarter.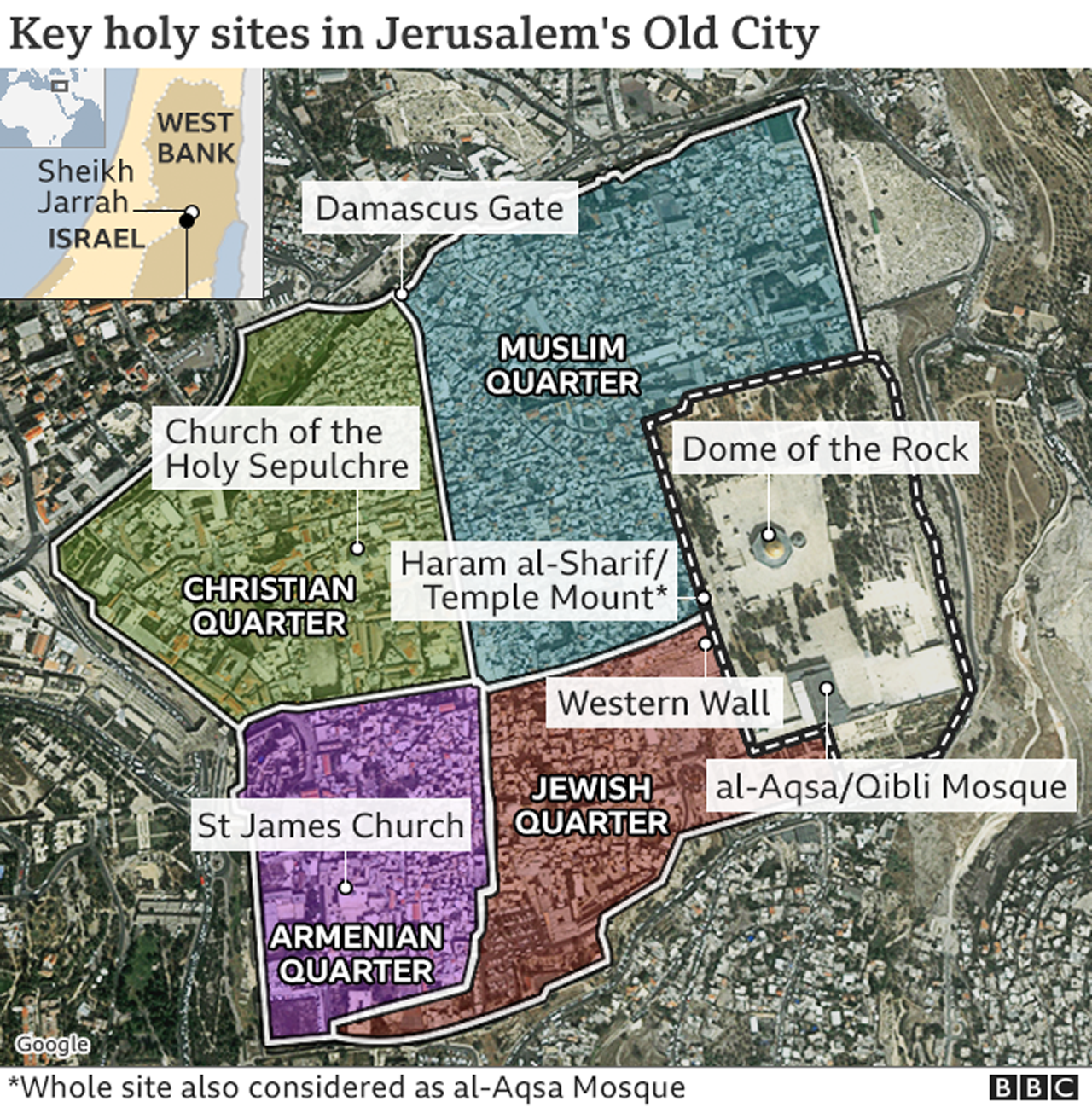 The march traditionally sees thousands of young Jews, many waving Israeli flags, dance and sing patriotic songs as they stream through the patchwork of alleyways which run through the historic four quarters. Palestinians view the event as a provocation.
This year's march is taking place amid an already highly charged atmosphere between Israel and the Palestinians.
A wave of deadly attacks on Israelis by Palestinians or Israeli Arabs, and the deaths of dozens of Palestinians, including attackers, militants and civilians, by Israeli forces has fuelled anger on both sides.
It also follows recriminations over the killing of Al Jazeera reporter Shireen Abu Aqla, shot dead while reporting on an Israeli military operation in the occupied West Bank on 11 May.
Palestinian investigators have concluded that she was shot by an Israeli soldier "with the aim of killing". Israel has dismissed this as a "blatant lie", saying the Palestinians' refusal to co-operate in a joint investigation makes it so far impossible to determine whether Abu Aqla was killed by a soldier or Palestinian militant.
story by raffi berg