Vladimir Putin has declared martial law in the four provinces of Ukraine where Russia controls territory after Russian officials warned of a looming Ukrainian assault on the key southern city of Kherson.
"We are working on solving very complex, large-scale tasks to ensure a reliable future for Russia, the future of our people," the Russian president said in televised remarks to members of his security council.
The law, published on the Kremlin website, gives far far-reaching emergency powers to the Russian-installed heads of Luhansk, Donetsk, Zaporizhzhia and Kherson provinces, which Russia recently proclaimed as annexed after sham referendums.
The Kremlin decree also puts Russia on a stronger economic war-footing. Putin ordered an "economic mobilisation" in eight provinces bordering Ukraine, including Crimea, which Russia annexed in 2014. Putin said he was granting additional authority to the leaders of all Russian provinces to maintain public order and increase production in support of Moscow's war, which is entering its eighth month. The law also limits the freedom to move in and out of eight Russian provinces bordering Ukraine.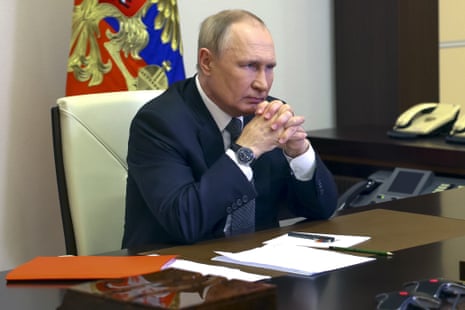 The Russian president, Vladimir Putin, chairs a security council meeting via videoconference. Photograph: Sergei Ilyin/AP
In his speech, Putin also hinted at a further escalation of the war, calling the Ukrainian authorities "satanists" who have ignored Russia's warnings.
"Russia has repeatedly given a chance to the command of the satanists to come to their senses. But we were not heard or ignored. Now everything will be different, we will dictate the terms," Putin said.
Shortly after Putin's statements, his spokesperson, Dmitry Peskov, said the government was not planning on closing the country's international borders.