The former Belgium coach Roberto Martínez has been named as Portugal's manager and intends to hold talks with Cristiano Ronaldo.
Martínez, from Spain, stepped down from the Belgium job after their World Cup group stage exit, saying he had made the decision to end his six-year tenure some time ago and would have left even if they had been crowned champions.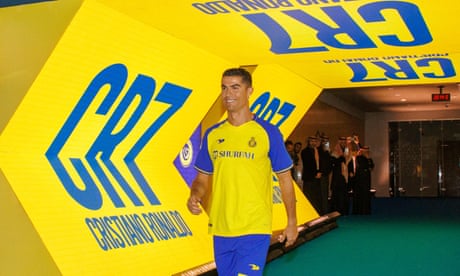 It ended spell during which he took them to No 1 in the world rankings and third place at the 2018 World Cup in Russia. The 49-year-old is replacing Fernando Santos, who left after Portugal suffered a shock defeat by Morocco in the World Cup quarter-finals.
"I am delighted to be able to represent one of the most talented teams in the world," Martínez said. "I understand there are great expectations … but I also understand there is a very large team [at the federation] … and together we will achieve our goals."
Questioned about the future of Ronaldo in the national team, Martínez said that he would contact the 37-year-old, who last month joined the Saudi Arabian club Al Nassr.
"I want to contact all 26 players who were at the last World Cup … Cristiano is a player on that list," he said, adding that he would "sit down and talk" with the forward, who is his country's record scorer with 118 goals. Ronaldo was left out of the starting XI by Santos for the final two World Cup matches.
The Portugal football federation's president, Fernando Gomes, told a news conference as Martínez stood next to him: "I appreciate the enthusiasm and ambition with which he received the invitation. This is an important moment for the national team."
Santos, widely criticised for his tactics, became Portugal coach in 2014 and won the European Championship in 2016 and Uefa's inaugural Nations League in 2018-19.