After Bruno Fernandes scored the winner he ran straight to the Aston Villa supporters and stood stock-still and poker-faced, a celebration that was a riposte to their taunts of Manchester United's captain.
"Obviously they probably don't like to play against me, but it is what it is," he said. "It's football, I'm okay with that, they can enjoy the game in the way they want. I would prefer for them to come and support their players, instead of focusing on me, but if they think it's better to be focused on me than their own players, then I don't mind that at all."
This pithy take from United's totem was possible because of a victory achieved at a relative canter, which ended Villa's 10-game unbeaten sequence and tightened Erik ten Hag's team's hold on fourth place in the Champions League qualification chase.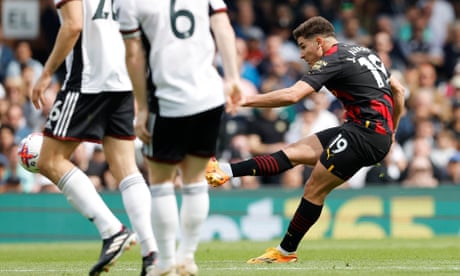 On a day when fans marched on Old Trafford demanding "100% sale" of their club rather than Sir Jim Ratcliffe's proposal to purchase just over 50% and perhaps keep one or more of the Glazer siblings as stakeholders, Fernandes's pivot-and-finish six minutes before half-time took all three points. This left his manager purring at Fernandes's contribution.
"He's so tough – a couple of weeks ago people questioned his captaincy," Ten Hag said. "This is crazy, he is a big leader who gives so much energy to the team with his determination and resilience. We need players like him if you want to win trophies."
United had pinged the ball about and around Villa at an express pace for most of an invigorating contest. In Marcus Rashford they had a centre-forward who began and ended with 19 goals at home despite a series of chances that began with a left-foot shot half-smothered by Emiliano Martínez's backside.
Villa's next escape occurred in a frantic passage when Martínez rushed out and slipped, clearing the ball only to Christian Eriksen, who answered the home congregation's cries of "shoot" with a miscued lob. Possession went to Marcel Sabitzer who could not finish.Manchester United fans march to Old Trafford to demand 100% sale – video
This was all heartening for United and not to the liking of Unai Emery, whose animated quasi-semaphore touchline act had him taking a seat in disgust before he was up again to urge his players on.
Fernandes was next to threaten via a curving ball in from the right that no teammate was present to finish. But then Villa launched a raid and United were warned. Emiliano Buendía popped up in an inside-right position and slid the ball beyond David de Gea. As Ollie Watkins fell, Diogo Dalot stuck out a boot. Up sprang De Gea in time to repel Álex Moreno's piledriver and Ten Hag's charges breathed again.
In an incident-packed spectacle Casemiro went the closest yet to an opener by crashing the ball off Martínez's bar, before Villa's captain, John McGinn, was primed to pull the trigger at the other end only for Tyrell Malacia's challenge to thwart him.
Then United scored the goal that proved the difference. A high pass was flicked on and Rashford collected it and shot across Martínez. The goalkeeper's save was limp, pushing the ball to Fernandes. He twisted and forced it home courtesy of a Moreno deflection that inadvertently chipped the flailing Martínez.
After the VAR took a look and ruled Rashford had not been offside, Emery offered a petulant thumbs up to the assistant referee, but comically the gesture required several repeats as it kept going unseen.
Eriksen's radar has been awry recently after a prolonged layoff so a dink that bounced sweetly for Malacia to surge on to along the left was encouraging.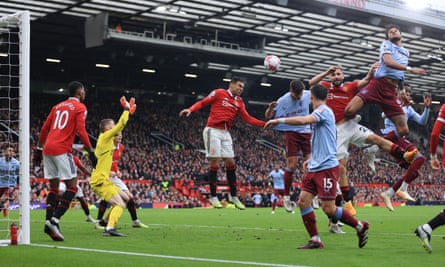 Casemiro (centre) makes a defensive header for Manchester United. Photograph: Simon Stacpoole/Offside/Getty Images
The defender swept the ball towards the lurking Rashford and Tyrone Mings went close to backheeling it into the centre-forward's feet.
He was soon dribbling through and Martínez had to dash out to stop him. Then, after a rare Villa attack teed Watkins up to shoot, Casemiro's floated diagonal was miscontrolled by Rashford.Quick Guide
Ten Hag would have been pleased with the dominance but not the wanting ruthlessness: a theme of the campaign. Eriksen was a culprit: a move along the right was followed by a cross that failed to find either Sabitzer or Rashford.
United's profligacy meant Villa could still hope but McGinn had to do better with a 20-yard attempt he scuffed. Emery's side pressed as the final whistle approached: a Mings header was kept out by his teammate Ezri Konsa on United's goalline and as the clock ticked towards time Antony might have doubled the lead but could only pea-roll an effort into Martínez's hands