Chelsea are set to break the British transfer record for the second time in seven months after agreeing an £115m deal to sign the Brighton midfielder Moisés Caicedo, who will undergo a medical on Monday before completing his long-awaited move to Stamford Bridge.
Liverpool had an offer of £111m for Caicedo accepted last Thursday but were unable to convince the player to move to Anfield. The Ecuador midfielder's preference has always been to join Chelsea, who have thrashed out a deal that will see them pay £100m plus £15m in performance-related add-ons after days of frantic negotiations with Brighton, and he is set to sign an eight-year deal with an option for an extra year.
Brighton have added a sell-on clause and have driven a hard bargain. They were adamant that Caicedo would not be sold for under £100m and rejected several lower bids from Chelsea. Brighton have lost several players and members of staff to Chelsea in the past year.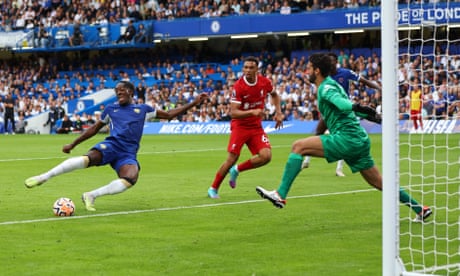 Chelsea's official stance is that the transfer has not been finalised, with more than one club source stressing on Sunday night that it was not 100% done yet. The reality is that Mauricio Pochettino, who has been desperate to strengthen his midfield, is going to land his top target. Chelsea refused to give up on Caicedo and have left Liverpool disappointed after outbidding them.
There could be another blow for Liverpool if Chelsea beat them to the signing of the Southampton midfielder Roméo Lavia. Southampton remain in talks with both clubs over the sale of Lavia. Chelsea are leading the race after making a £55m bid for the 19-year-old on Friday night.
It is proving to be another whirlwind window for Chelsea's owners, Todd Boehly and Clearlake Capital. They broke the British transfer record when they signed the Argentina midfielder Enzo Fernández for £106.8m in January and the deal for Caicedo will bring the spending under Boehly and Clearlake to close to £900m since they bought the club last year.Quick Guide
There will be questions over whether Chelsea will fall foul of financial fair play regulations. They have conducted a clearout since the end of last season and have raised funds by moving 12 players out so far this summer. They are loaning the goalkeeper Kepa Arrizabalaga to Real Madrid and could sell Romelu Lukaku, Conor Gallagher, Ian Maatsen, Trevoh Chalobah, Hakim Ziyech and Callum Hudson-Odoi before the window shuts.
Pochettino wants further additions and Chelsea, who pulled out of a £20m deal to sign the Leeds United midfielder Tyler Adams on Friday, are trying to sign the Crystal Palace winger Michael Olise. The west London club also want a goalkeeper and a striker.
Jürgen Klopp had said Chelsea managers usually get what they want as Liverpool braced themselves for the setback of missing out on Caicedo. Liverpool's manager has been desperate to sign another midfielder this summer and the flaws were evident as his side opened their campaign with an entertaining 1-1 draw with Pochettino's side.
Pochettino wants to strengthen his squad further before the transfer window shuts. "That's what each Chelsea manager wants and usually they get it," Klopp said.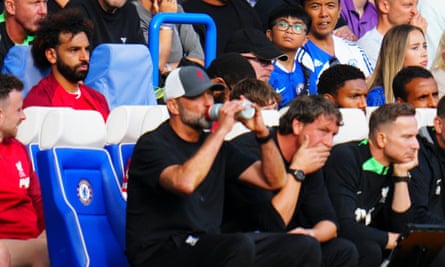 An unhappy-looking Mohamed Salah sits behind Jürgen Klopp after being substituted. Photograph: Javier García/Shutterstock
Klopp saw Liverpool fade after a promising start, with Luis Díaz's opener cancelled out by Axel Disasi scoring on his Chelsea debut. The manager played down Mohamed Salah's angry reaction to being substituted in the second half.
"I didn't have a conversation yet with him," Klopp said. "I don't think you have ever seen Mo leaving a pitch happily. I can't remember. That is OK. I didn't think about it, I didn't even know about it. I understand his disappointment, but I am the manager and we needed fresh legs. It was never anything to do with Mo or against him. 99% of the things we have achieved, we have achieved with him or because of him."
Chelsea and Liverpool highlight increasing need for Caicedo in chaotic clash
Roy Keane was critical of Salah while analysing the game for Sky Sports. "Don't sit there on the bench waving your arms about," Keane said. "It is OK to be upset but not for too long. Sit down and shut up."
Pochettino was pleased with Chelsea's display. "When we arrived here on the first day we didn't want to talk about the past," he said. "In football it's about moving on. It's about the present and the future. I am so pleased because when some difficult moments appeared, the team was there."
The Metropolitan police's football unit reported that two men had been identified after engaging in "tragedy chanting" at the match. It tweeted: "One was arrested on suspicion of public order offences and the other was ejected."