Joe Biden has said Republicans launched an impeachment inquiry against him because "they want to shut down the government".
The Republicans' impeachment inquiry into Biden is laughably cynical
Biden was speaking at a campaign event in McLean, Virginia, on Wednesday, a day after the House speaker, Kevin McCarthy, conceded to pressure from the right of his party and announced the inquiry.
"I don't know quite why, but they just knew they wanted to impeach me," Biden said. "And now, the best I can tell, they want to impeach me because they want to shut down the government."
Without agreement on new funding by 30 September, the federal government will at least partially shut down. Hard-right Republicans are demanding cuts to some spending and increases in other areas, particularly immigration enforcement.
Some made an impeachment inquiry – regarding the business affairs of the president's son, Hunter Biden, and unsubstantiated allegations of corruption involving Joe Biden – a condition of support for keeping the government open.
Given he must run the House with just a five-seat majority, McCarthy is at the mercy of such pressure.
With more than five Republicans having expressed skepticism about whether impeachment would be merited, McCarthy skipped a vote on whether to open an inquiry.
That followed the example of Nancy Pelosi, his Democratic predecessor, who did not hold a House vote before proceedings against Donald Trump began in 2019. Notably, it also opened McCarthy to accusations of hypocrisy, given he excoriated Pelosi and told rightwing news outlets at the time that he would hold a vote.
After an inquiry, impeachment must be voted on by the full House. A yes vote sends the president to the Senate for trial. A vote there decides if the president will be acquitted, or convicted and removed.
Trump was impeached twice, first for seeking political dirt on the Biden family and others in Ukraine, then for inciting the January 6 attack on Congress. The second Trump impeachment was the most bipartisan in history, with 10 House Republicans voting to impeach and seven Republican senators voting to convict. But enough Senate Republicans stayed loyal to see Trump acquitted.
The other impeached presidents – Andrew Johnson (1868) and Bill Clinton (1998) – also survived Senate trials. As Democrats now hold the Senate, the effort against Biden stands next to no chance of succeeding.
In Virginia, Biden said: "So look, look, I got a job to do. Everybody always asked about impeachment. I get up every day, not a joke, not focused on impeachment. I've got a job to do. I've got to deal with the issues that affect the American people every single solitary day."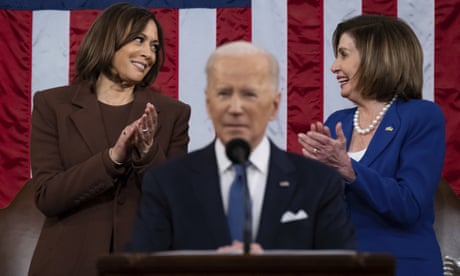 Nonetheless, the White House has reportedly spent more than a year setting up a war room to push back at Republican invective and seek to shape the media narrative.
On Thursday, Biden's spokesperson for oversight and investigations, Ian Sams, jumped on remarks by the California Republican Darrell Issa, a member of the House judiciary committee that will take part in the impeachment inquiry.
"There has to be an aha moment," Issa told CNN. "The actual participation [in Hunter's deals] by the vice-president and now president, that still has to be discovered and or nailed down."
Issa, Sams SAID,, had admitted Republicans were on "an evidence-free wild goose chase".