An American citizen freed in a complex exchange deal after being imprisoned for nearly eight years in Iran has urged the Biden administration to launch a "gamechanging global endeavour" to end the Islamic regime's longstanding practice of holding foreign nationals hostage.Siamak Namazi, 51, was one of five US citizens released on Monday under the terms of an agreement that saw five Iranians facing charges in the United States granted clemency and Iran being given access to $6bn of previously frozen oil revenues.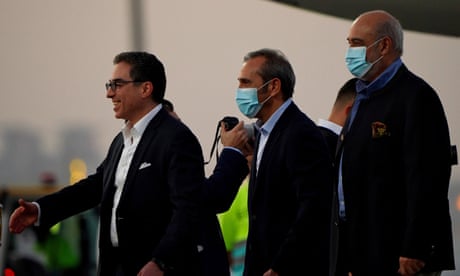 Five Americans head home in $6bn US-Iran prisoner swap deal
Read moreThe prisoners' release was hailed by President Joe Biden, who immediately announced fresh sanctions on the hardline former Iranian president Mahmoud Ahmadinejad and the country's powerful intelligence ministry over the still undetermined fate of Robert Levinson, a retired FBI agent who vanished after visiting an island off Iran's southern coast in 2007. Biden also called on Americans – including those holding dual US-Iranian nationality – to avoid visiting Iran, which has been at loggerheads with Washington since 52 American embassy employees were held hostage in Tehran for 444 days in the aftermath of the 1979 Islamic revolution.However, Namazi – himself a dual national and the longest-hold of the five detainees after being imprisoned for 2,898 days, most of them inside Tehran's notorious Evin prison – in a statement called for a radically different approach to deter state-sponsored hostage taking."Over the past 44 years, the Iranian regime has mastered the nasty game of caging innocent Americans and other foreign nationals, and commercialising their freedom," he said after flying from Tehran to Doha, calling Evin prison a "dystopian United Nations of Hostages"."We must urgently channel the grievous pain of the victims of this wickedness into the kind of measures that would upend the cost-benefit calculations of Tehran's foul business. For if we keep this vile path to profit free of risk and toll, this venal regime will keep treading on it.
Again and again."It is only if the free world finally agrees to collectively impose draconian consequences on those who use human lives as mere bargaining chips, that the Iranian regime and its ilk will be compelled to make different choices. Sadly, until then, we can anticipate more Americans and others falling victim to state hostage-taking."Namazi's comments are likely to be seized on by Republicans who claimed that Iran is likely to use the unfrozen $6bn to fund terrorist activities.
US officials insisted that the money will be restricted to "humanitarian transactions" involving food, medicine and medical supplies, and agricultural products."This is not a payment of any kind," a senior administration official said in an issued statement. "No funds enter Iran, nor do any funds get paid to Iranian companies or entities. At bottom, these are Iranian funds – payment made by South Korea to Iran for purchases of oil years ago, including during the last administration – moving from one restricted account in Korea to another restricted account in Qatar."The funds were frozen in 2019 as a result of ramped-up sanctions imposed by the Trump administration as part of its policy of "maximum pressure" on Tehran. They related to oil bought from Iran by South Korea the previous year under a sanctions-waiver scheme.