Jimmy Carter has "decided to spend his remaining time at home" in hospice care after a series of short hospital stays, the 98-year-old former president's family said in a statement on Saturday.
The statement, issued by the Carter Center, said the ex-president's choice had "the full of support of his family and his medical team". It also said the family "asks for privacy during this time and is grateful for the concern shown by his admirers".
Carter, a Democrat, is the longest-lived president. He served as the 39th president from 1977 to 1981. He was preceded by Gerald Ford and succeeded by late Ronald Reagan, a Republican who defeated him at the end of his lone term, during the Iran hostage crisis.
Carter won the 2002 Nobel peace prize for work to find peaceful solutions to international conflicts, advance democracy and human rights, and promote economic and social development. He is known for a devotion to the Baptist faith.
Born and raised in Plains, Georgia, Carter joined the US navy in 1946, serving on submarines. In 1953, he left the service and returned home to Georgia to run his family's peanut farm.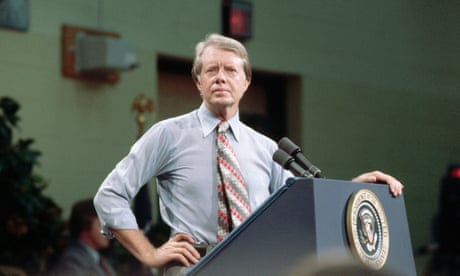 As he embarked on a political career, he became an activist Democrat who opposed racial segregation and supported the nascent civil rights movement. From 1963 to 1967, Carter served in the Georgia senate and was elected governor in 1970.
In a surprise turn after he left the governorship in 1975, he won the 1976 Democratic presidential nomination and – as an outsider candidate later that year – the presidency itself. Carter won the Oval Office by 297 electoral votes to Ford's 241.
His presidential run, he later said, was helped by the Allman Brothers Band. His campaign was $300,000 in debt when the band raised $64,000, allowing Carter to double that with matching government funds.
"Gregg Allman and the Allman Brothers just about put me in the White House," he said in 2015.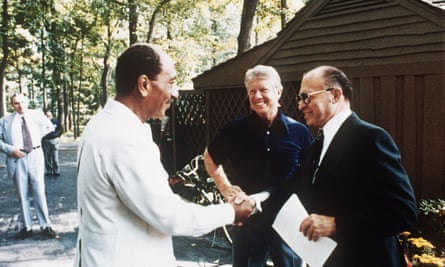 The former Egyptian president Anwar al-Sadat, left, shakes hands with the former Israeli premier Menachem Begin, as Jimmy Carter looks on at Camp David in 1978. Photograph: Consolidated News/AFP/Getty Images
Carter said he aspired to make government "competent and compassionate" – and responsive to the electorate.
In domestic affairs, he dealt with the energy shortage by establishing a national energy policy. He sought to improve government efficiency through reforms and deregulation and began to establish the environment as a matter of national importance, including by expanding the national park system.
Carter also created the federal education department, strengthened the social Sccurity system, and appointed record numbers of women as well as Black and Latino people to government jobs.
In foreign affairs, through the Camp David agreement of 1978, he helped bring accord between Egypt and Israel; established full diplomatic relations with China; and completed negotiation of a nuclear limitation treaty with the Soviet Union. However, the Soviet invasion of Afghanistan caused ratification of the treaty to be suspended.
Outside his high ideals, political forces beyond his control marked his term, including rising energy costs, mounting inflation and the 1979 seizure of 52 US diplomats and citizens at the US embassy compound in Tehran by student supporters of the Iranian revolution.
The Iran hostage crisis dominated the last 14 months of Carter's administration and – it is widely believed – led to his electoral defeat to Reagan.
Carter is married to Rosalynn Smith, 95. The couple have three sons – John William (Jack), James Earl III (Chip) and Donnel Jeffrey (Jeff) – as well as a daughter, Amy Lynn.
Ramon Antonio Vargas contributed reporting