Here is your running order for tonight, which the European Broadcasting Union (EBU) have handily put on a social media graphic so that I don't have to type it all out. The show starts at 8pm BST.
Ukraine go 19th, the UK goes last. Favourites Sweden and Finland go 10th and 13th. The show opens with Austria's brilliant song about Edgar Allan Poe, and 25th is Croatia's utterly and delightfully bonkers anti-war song Mama ŠČ! from Let 3. Plus we will get the usual skits and grand musical numbers.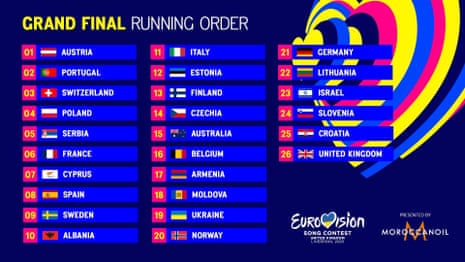 The comments will be open, but experience tells me that I will be unlikely to draw enough of a breath to join in, but have fun and be kind to each other.
And remember our cardinal rule. If you have come on to the Guardian website to leave a comment saying that you don't watch Eurovision, you hate it, it is a silly waste of a time, then fair enough, everyone is entitled to their opinion, you do you. But I can guarantee we are having a better time enjoying it than youare by choosing to actively spend your Saturday evening moaning about it 🙂