Boris Johnson and his allies have been told by senior Conservatives to "shut up and go away" as the privileges committee prepares to sign off what is expected to be a damning report into his conduct.
MPs on the committee are understood to have received threats from members of the public over the weekend, following Johnson's decision to stand down as an MP after being told they had concluded he deliberately misled parliament over Partygate.
Some MPs loyal to the former prime minister who sought to sway the committee's decision are also said to be at risk of being investigated for a separate contempt of parliament.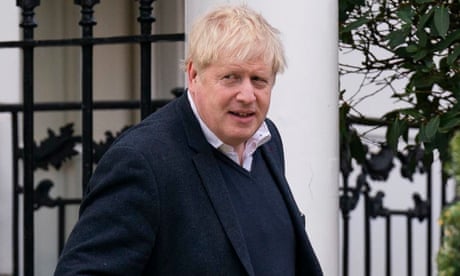 The seven-strong committee, which has a Tory majority and Labour chair, will regroup at 11am on Monday to finalise the conclusion to their year-long inquiry. They are likely to speed up the the publication of their report, with the details of their findings made public as soon as Wednesday.
While Johnson cannot be sanctioned with a suspension now he has resigned, the committee could recommend that he be refused a pass offered to ex-MPs allowing privileged access to parliament.
Such a move would be in the power of the Commons speaker, Lindsay Hoyle, and it has been recommended before by a parliamentary watchdog. An independent expert panel proposed the sanction for former speaker John Bercow in its report on bullying which was published after he stepped down as an MP.'A coward': how Westminster reacted to Boris Johnson quitting as MP – video
Some of Johnson's allies are said to have urged Tory members to write to the privileges committee in a bid to influence its conclusions. The Guardian understands several MPs have held talks on the possibility of tabling a motion with a view to holding them in contempt of parliament.
Tim Loughton, a Tory MP and former minister, said Johnson should "shut up and go away" and branded his allies a "mob". A government source added: "The witch-hunt narrative is held by a sad rump of Boris worshippers, whose numbers are small."
In a bid to distance Rishi Sunak from his predecessor-but-one, the energy secretary Grant Shapps said "the world has moved on" from Johnson. He suggested that Johnson was wrong to claim No 10 had promised all the MPs he nominated for peerages would be approved, saying: "Occasionally Boris wouldn't be all over the detail."
Shapps said MPs on the privileges committee should be allowed to "get on with their job" and played down Johnson's potential future in the Conservative party, telling Sky News: "I'm sure he's got many other things he wants to get on and do."
Jacob Rees-Mogg, who was knighted in Johnson's resignation honours, said he was hopeful about the former prime minister's chance of a comeback. He said Sunak should remain leader until the next general election – but predicted that "at some indeterminate date in the future when Rishi's hair has gone grey and he decides to retire," Johnson could come back "on his charger to save the nation".
While Sunak has made no public appearance since Johnson's resignation, the prime minister broke his silence on Twitter to tell followers he was "focused on your priorities". He cited progress on three of his "five pledges"..
A flurry of campaigning has already begun for the three byelections triggered by the resignation of Johnson loyalists Nadine Dorries and Nigel Adams.
Unlike at previous byelections, Labour and the Liberal Democrats appear to have ditched an informal non-aggression pact in Dorries' seat. Senior figures from both parties and activists have already flooded the area – aware of the high prize that taking a constituency with a 24,000 Tory majority would be.
Anneliese Dodds, Labour's chair, and Shabana Mahmood, the party's campaign coordinator, raced there over the weekend. The Lib Dems, meanwhile, said it had been "our best start to a byelection campaign in living memory" and claimed to have already canvassed more than 10,000 homes with Ed Davey appearing on Sunday and planning a return visit on Monday.
Labour came second place in the constituency with 14,000 votes at the last election, to the Lib Dems' 8,000. A three-way fight could lead the anti-Conservative vote to splinter, making the prospect of a Tory loss less likely.
Opposition parties have already been campaigning in earnest in Johnson's Uxbridge and South Ruislip seat, where the Tories' majority is a relatively slim 7,000. They expect to ramp up their presence in Selby and Ainsty, which was vacated by Adams on Saturday.
Sunak was urged to call the three byelections swiftly. "It would be sensible for them to take place as quickly as possible," said Robert Hayward, a Conservative peer and elections expert.
"It would be better for the government to deal with this matter – whatever the result – and then be able to move on and deal with the issues of governance and the autumn party conference."
Hayward added No 10 would "probably hope" the expected byelection triggered by the 30-day suspension of Margaret Ferrier in Rutherglen and Hamilton West would fall on the same day. An SNP defeat would take some of the political pressure off the Tories, he suggested.
Meanwhile, the House of Lords appointment commission sought to distance itself from a row between Johnson and No 10 over the MPs he nominated for a peerage but who were not accepted.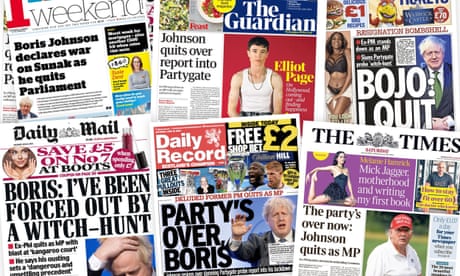 In a statement, the commission confirmed that it vetted and did not support eight of the nominees. It added the "usual processes" was followed and stressed it was "not involved in the appointment processes after providing advice".
Keen to capitalise on Johnson's frustration with the government, Nigel Farage suggested he would be open a new form of electoral pact with him. "If he wants to defend his Brexit legacy, I want to defend my Brexit legacy too," Farage told the BBC.
"Would there be a possibility of a new coming together on the centre-right? It would be Boris Johnson, there would be other MPs that would join in with this as well."
Farage claimed up to 10 sitting Tories could join and added of Johnson: "I have discussed it with people very close to him and around him."