Despair to joy in the closing stages, this was some turnaround, some way for Arsenal to ignite their season. And some way for Manchester United's away-day misery to continue. As the Emirates bellowed the name of their team, United's pain knew no bounds.
Alejandro Garnacho thought that he had won it for the visitors, thought he had landed the most perfect of sucker punches. On as a substitute, the winger accelerated on to a Bruno Fernandes pass in the 89th minute to slide a cool finish past Aaron Ramsdale and into the Arsenal net.
Garnacho had struck late on at Fulham last season to secure Erik ten Hag's only win in London with United. It continues to stand as such because of a wild sequence of events that had the Emirates breathless.
First the VAR spotted that Garnacho had been fractionally offside when he began his run. On the replays, it looked as if Gabriel Magalhães, the last Arsenal defender, had sucked in his stomach as stepped up. Then Arsenal stole it.
Did they deserve the win? It was hard to say after an erratic game in which there were plenty of errors. But the bulk of those present did not ask the question. They simply let the emotions run over them after Declan Rice, unmarked beyond the far post on a corner, took a touch in the sixth minute of stoppage-time and saw his shot flick off the United substitute, Jonny Evans, and beat André Onana.
In the 81st minute, Arsenal thought they had made the decisive move only for Onana to save with his feet from Bukayo Saka. When they showed the replay on the big screen, there was a collective gasp from the home crowd. Saka had to score. But there would be a deafening gloss when another substitute, Gabriel Jesus, streaked away at the very end and cut inside Diogo Dalot to make it 3-1. United have still to record a Premier League win at a major rival under Ten Hag.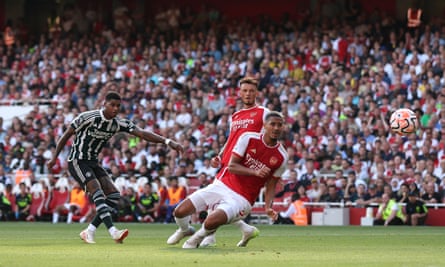 It was "one of the most important games in the Premier League," to quote the United manager, second versus third from last season and, with the transfer window shut – thank goodness, to paraphrase every manager – it was time to zero in on what really mattered.
The atmosphere pulsed and it was Arsenal who settled the quicker, determined to play on the front foot. United struggled to get out in the early running, living on the end of their nerves when building from the back, wayward when going long.
Arsenal had the first big chance, Kai Havertz winning possession and getting his team moving only to miskick badly when the goal beckoned, United having made a mess of clearing a Gabriel Martinelli cross.
The opening goal appeared in the post for Arsenal. And yet United somehow scored it. It was their first meaningful thrust and, inevitably, it was about Marcus Rashford, slicing inside from the left, Ben White and William Saliba not close enough, the finish steered expertly inside the far post.
Christian Eriksen had sparked the break, stepping up to intercept a loose Havertz pass inside that was intended for Martin Ødegaard. Eriksen drove and it was a nicely weighted ball from him up to Rashford.
It took Arsenal all of 35 seconds to equalise – a bitter frustration for Ten Hag, United's undeserved ascendency frittered away. The green-and-white stripes (yes, United) watched Arsenal ping a few passes, Martinelli playing the key one, a lovely cut back for Ødegaard, who swept home with the air of a man who knew exactly what was about to happen.
Every United fan knew that the team could conceivably have arrived at the Emirates with zero points, results having greatly outstripped performances. They badly needed something more cohesive here, an answer to the questions that seem to be everywhere – and that is before we get to the ongoing Glazer drain, the sapping torment of the owners' tenure.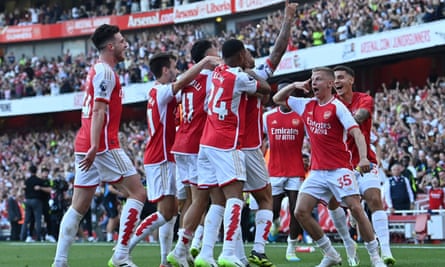 Injuries have bitten. Scott McTominay and Jadon Sancho did not travel – Raphaël Varane, Luke Shaw, Tyrell Malacia and Mason Mount were already out – and Ten Hag had little alternative but to persist with Diogo Dalot out of position at left-back (the loanee, Sergio Reguilón, was not ready) or Eriksen in midfield. Eriksen played well.
It felt as if the principal benefit of starting Anthony Martial up front was to enable Rashford to play in his favoured role off the left. Antony struggled on the right.
Victor Lindelöf spent a yellow card on a cynical foul on Eddie Ntekiah just before half-time, taking him out on the United right after being outstripped for pace – he was lucky that Lisandro Martínez had raced back in the middle.
Arsenal were laboured, too; their passing lacking zip and precision. It felt as if the game was there for them to seize in the second half, even as Ramsdale beat away a Martial shot and White blocked the rebound from Rashford. They still had to seize it.