So, this is what happens when Gareth Southgate plays Jude Bellingham as a pure No 10. Real Madrid have discovered that it is a pretty good idea to have him in a high position, their new darling slicing through La Liga defences since his big-money transfer from Borussia Dortmund, scoring in every game. Here, it was Scotland's turn to suffer.
England were excellent in the first half, Bellingham involved in Phil Foden's deft opener and scoring the second himself. There is something irresistible about his fusion of twinkle-toed skill and driving power; his desire to be direct and hurt opponents.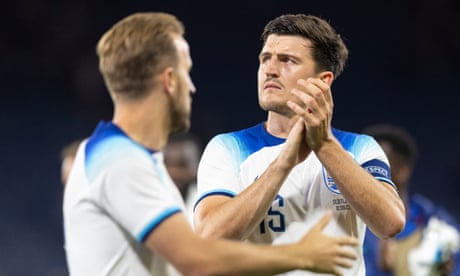 Weirdly, and worryingly, Southgate's team flirted with disaster. On as a half-time substitute, Harry Maguire suffered at the hands of the Scotland support and he burned with indignation when he stuck out an ill-advised leg to divert Andy Robertson's cross into his own goal.
It felt inconceivable that England would mess this up. They were superior in every department, Scotland's excellent form – five wins out of five in Euro 2024 qualification – not translating to this showpiece. Then again, England had become a little too comfortable after the interval, the intensity levels down.
There will be plenty of discussion about Maguire. It had to be him. It had to be a ponderous clump from the player that is a long way from Manchester United's favoured lineup but who can still call himself a Southgate first-choice. For how much longer, given the positive steps that Marc Guéhi has taken in this international break and John Stones's status as the undisputed central defensive linchpin? Everybody had the same thought here. What if Maguire makes a mistake in a knockout tie at next summer's Euros?
Bellingham is an altogether happier subject and, with 82 minutes on the clock, he went yet again, spinning in a tight circle to lose one blue shirt before surging away from another. Scotland just wanted him to stop but he was remorseless. The weight on the pass slipped through for Harry Kane was perfect. It was one touch and finish from the captain. Game over.
Southgate knew that he needed a more convincing performance than in Saturday's 1-1 qualification draw against Ukraine in Poland – and especially because it was Scotland, a fixture that has so often been a reference point for him. He got it, the switch to 4-2-3-1 working, Bellingham supported by Declan Rice and Kalvin Phillips; Foden and Marcus Rashford menacing off the wings.
It was about playing a hostile occasion, as well as the game. Both anthems had been booed, one more lustily than the other, which was entirely in keeping with things. It also felt like a bad idea to attempt a moment of silence for the late Scotland manager, Craig Brown, and the victims of the natural disasters in Morocco and Libya. Was it respected? No.
England hogged possession and it was what they did with it that delighted Southgate, some of their one-touch stuff extremely easy on the eye. Scotland struggled to put pressure on the ball and, with Steve Clarke wanting his backline to squeeze high, England could see big spaces into which to play their runners.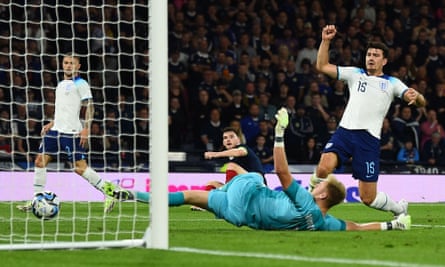 Harry Maguire's turbulent run continued after scoring an own goal as a substitute.
Photograph: Andy Buchanan/AFP/Getty Images
Bellingham's touch and awareness were stamped all over the opening goal, which had been advertised; his pass on the edge of the area nicely angled for Rashford a little further forward. Rashford went right to Kyle Walker and, when the full-back drilled low across goal, Foden's reactions were quick, the cushioned diversion past Angus Gunn very tidy.
Southgate used Foden on the right, albeit with the licence to drift. The Manchester City player had lifted wastefully high on 19 minutes – was Rashford offside in the buildup? – but he grew into the game, all swerves and instant control.
Scotland were rocking and England completed the one-two punch after a dreadful error from the home captain Robertson. It was Bellingham with the backheel to Foden on the left and then a whipped cross from the latter, which hit Kane and broke towards Robertson. Only he knows what happened next. Instead of clearing, he hesitated and, wires crossed, simply prodded to Bellingham, who swept home.
Bellingham picked up a silly yellow card for a push-and-shove with Jack Hendry, who was also booked, moments after Phillips had cut through Che Adams. Phillips got a yellow, too. But England might have been out of sight at the interval. Walker lashed wide on 25 minutes and a couple of other breaks did not quite come off.
Southgate had said that too much experimentation with the lineup would have been "ridiculous." He still brought in Lewis Dunk to play alongside Guéhi in central defence and there was a recall for Aaron Ramsdale in goal. The trio have 12 caps between them. Scotland did not threaten at all in the first 45 minutes.
Maguire came on for Guéhi and the ridicule from the stands was immediate. It did not seem to affect him, at first. But as Clarke made tweaks with his substitutions, Scotland kicked out a foothold. Aaron Hickey had a shot blocked by Dunk and the stadium came alive when Maguire endured his horror moment.
Could Scotland summon an equaliser that had felt like a pipedream at the interval? John McGinn had the chance on 71 minutes, miscuing a header when well placed. Bellingham and Kane would slam the door shut.