Israel's prime minister, Benjamin rNetanyahu urged Elon Musk to address the proliferation of antisemitism on the billionaire's social media platform X.
In an in-person meeting in California on Monday, Netanyahu said he hoped Musk would find ways within the confines of the first amendment to clamp down on antisemitism and other forms of hatred on X, the platform formerly known as Twitter.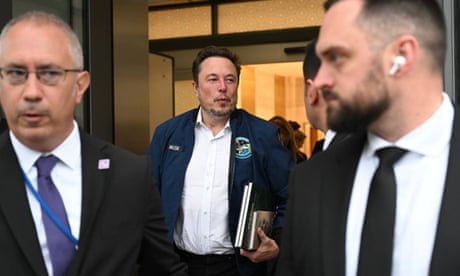 Monday's meeting was billed by the Israeli leader as a conversation about technology and AI that would include how leaders should both "harness the opportunities that mitigate the risks of AI for the good of civilization".
But the discussion quickly turned to free speech and antisemitism.
Since Musk took over Twitter in October 2022, the platform has repeatedly been called out for the spread of antisemitic content among users. The Anti-Defamation League (ADL), the prominent Jewish civil-rights organization, has blamed Musk for allowing the distribution of such posts and the group's director, Jonathan Greenblatt, has accused Musk of "amplifying" the messages of neo-Nazis and white supremacists who want to ban the league.
Musk has said on X that he is "pro-free speech, but against antisemitism of any kind". But he has threatened to sue ADL for defamation, accusing the group of trying to "kill" the platform by "falsely accusing it and me of being antisemitic". In other posts, he has said the league was responsible for a 60% drop in revenue at X.
Musk has also repeatedly posted or amplified posts targeting George Soros, the Hungarian-American businessman and philanthropist, and his organization. Soros is a regular target for conspiracy theories. Under Netanyahu, the Israeli government has been critical of Soros and his organization and has defended Musk's criticism of the billionaire. "Criticism of Soros – who finances the most hostile organizations to the Jewish people and the state of Israel is anything but antisemitism, quite the opposite!" Israel's minister of diaspora affairs, Amichai Chikli, said in May, the Washington Post reported.
Responding to Netanyahu's concerns about antsemitism on X on Monday, Musk told the Israeli prime minister that with 100m to 200m posts on X in a day, "some of those are gonna be bad". He then reiterated the platform's policy to not promote or amplify hate speech.
Since taking over the social media platform nearly a year ago, Musk has cut back on content moderation practices and changed policies to typically no longer remove objectionable posts, but instead their visibility is limited so people have to seek it out if they want to see it. Musk calls this "freedom of speech, not freedom of reach".
"I encourage you and urge you to find the balance," Netanyahu said. "It's a tough one."