Vladimir Putin has told Russian soldiers fighting in Ukraine that the "whole country is praying for them", as he used his Victory Day speech to defend his invasion of Ukraine.
Speaking at the 78th anniversary of the defeat of Nazi Germany, the Russian president drew historical parallels between the second world war and fighting in Ukraine
"Today, civilisation is again at a decisive, turning point, a real war has been unleashed against us again," Putin said in a speech that was laced with anger.
"We are proud of the participants of the special military operation. The future of our people depends on you," he said.
Putin accused the west of "destroying traditional values" and propagandising a "system of robbery and violence."
"The goal of our enemies, and there is nothing new here, is to achieve the disintegration and destruction of our country," he said.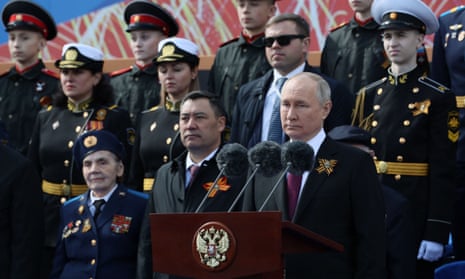 Vladimir Putin gives a speech during the Victory Day military parade in Moscow. Photograph: Gavriil Grigorov/Sputnik/AFP/Getty Images
More than 500 Russian soldiers who fought in Ukraine were present at the parade, according to state media.
Six leaders of former Soviet states were also present. In a surprise move on Monday, the heads of Kazakhstan, Uzbekistan and Armenia – three post-Soviet countries that Moscow strives to keep in its orbit – announced that they would attend the military parade on Red Square alongside Putin.
"Here is to our victory!," Putin exclaimed before returning to his seat.