Japan's military has said it will destroy any North Korean missile that violates its territory and is making preparations to do so, after Kim Jong-un's regime told Tokyo it plans to launch a satellite between 31 May and 11 June.
Japan's chief cabinet secretary, Hirokazu Matsuno, said any launch by North Korea, even if termed a satellite launch, affected the safety of Japanese citizens. "The government recognises that there is a possibility that the satellite may pass through our country's territory."
Nuclear-armed North Korea says it has completed its first military spy satellite and Kim has approved final preparations for launching it to orbit. Analysts say a military satellite would enhance North Korea's surveillance capability and improve its ability to strike targets in the event of war.
Japan's defence ministry said in a statement: "We will take destructive measures against ballistic and other missiles that are confirmed to land in our territory."
The ministry said it would use its Standard Missile-3 (SM-3) or Patriot Missile PAC-3 to destroy any such North Korean missile.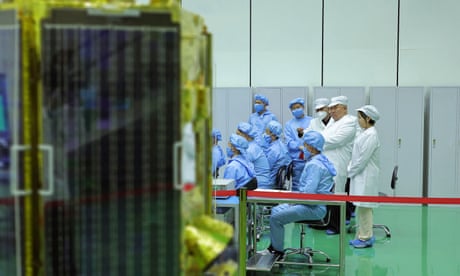 The Japanese prime minister, Fumio Kishida, told reporters that any North Korean missile launch would be a serious violation of a UN security council resolution. "We strongly urge North Korea to refrain from launching," Kishida's office said on Twitter, adding it would cooperate "with relevant countries such as the US and South Korea".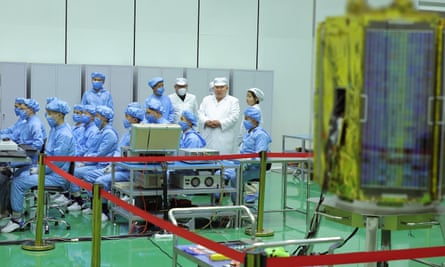 Kim Jong-un has already given the green light for the launch of North Korea's first military spy satellite. Photograph: KCNA/EPA
A US state department spokesperson told the South Korean news agency Yonhap that any launch involving ballistic missile technology was a violation of multiple UN security council resolutions. Satellite launching technology is similar to that used in ballistic missiles.
Japan has said it will do all it can to collect and analyse information from the launch.
North Korean media previously criticised plans by South Korea, the US and Japan to share real-time data on its missile launches, describing the three as discussing "sinister measures" for tightening military cooperation.
North Korea has undertaken a series of missile and weapons tests in recent months, including a new solid-fuel intercontinental ballistic missile (ICBM).