Finally, after pounding at the door for two hours, throats dry and knuckles bleeding, Spain got an answer. And of course it was the answer they deserved, but they knew too that what you deserve and what you get are often two different things. A few long white clouds and a brilliant blue sky looked down over Salma Paralluelo as her yellow-soled boots ate up the clear green turf. And perhaps it was Spain's ultimate fortune that the chance to make history should fall to a woman with no sense of history, with no baggage to carry. Just two feet and a ball, and the pure minimalism of youth.
In crashing the winning goal past the luckless Daphne van Domselaar, the 19-year-old Barcelona winger salvaged a lot more than Spain's tournament. She redeemed their idea of who they are, the idea that this great generation can still be great, that the scars of the past need not sting in the present. Spain will play a World Cup semi-final for the first time, against Japan or Sweden in Auckland next Tuesday, and for perhaps the first time they will feel fate is on their side.
The quality we already knew about. Mariona Caldentey and Ona Batlle on the left, timing their movements like good dancers. Aitana Bonmatí and Jennifer Hermoso in the centre, setting the game to their schedule. Teresa Abelleira at the base of midfield was perhaps the best of all, implacable and impassable, to the extent that the Netherlands were restricted to a sole tactic: long passes out of defence for Lineth Beerensteyn to chase. But as Beerensteyn passed up two golden chances in extra-time, the strains of an old song were beginning to sound, the song in which Spain dominate, and Spain dictate, and Spain leave with nothing.
Do you receive your luck or do you make it yourself? Spain had a goal disallowed in the first half, the Netherlands had a perfectly good penalty chalked off in the second, but on the balance of proceedings Spain were superior by a distance even after Stefanie van der Gragt's 91st-minute equaliser forced the game into extra-time. "A match with a lot of emotions," as Spain coach Jorge Vilda put it afterwards, but this time would not be like the others. "The goal from Selma," Vilda added, "was sheer joy."
And joy has not always been the first word that comes to mind with this team over the last couple of years, riven by resignations and recriminations, the suspicion that Spain's players are doing all this in spite of their boss and not for him. But Vilda has also had a fine tournament, his selection calls largely vindicated, his substitutions largely successful. Here he brought back Caldentey, brought Paralluelo off the bench to stretch tired Dutch limbs, resisted the temptation to break the glass and throw in an undercooked Alexia Putellas.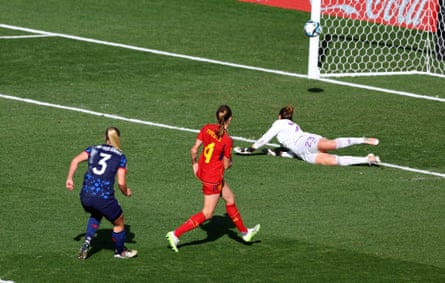 Inside the stadium the air was still, bordering silent. They talk a lot in these parts about honouring the ancestors, and here Wellington had decided to do so by making as little noise as possible. An early goal might have helped. Instead Spain passed up chance after chance: Esther González on four minutes, Alba Redondo on six, Redondo hitting the post twice on 17 minutes. Meanwhile Danielle van de Donk, perhaps the only Dutch player capable of disrupting this Spanish midfield, stood glumly at the back of the stand with a tracksuit on: suspended.
And in possession the Dutch were a DJ with only one song to play: hit Lineth. But Oihane Hernández and Irene Paredes had the aerial bombardment covered and Cata Coll in goal was sharp enough to sweep up the rest. In between Spain kept passing and kept passing. González had the ball in the net just before half-time: offside. The Dutch improved in the second half, and finally the fusillade of long passes to Beerensteyn bore fruit: Beerensteyn jetted past Paredes, felt a light shove in her kidneys and took the plunge. Stephanie Frappart gave the penalty, examined the footage, changed her mind.
With 10 minutes remaining, Van Domselaar finally ran out of miracles. All afternoon she had sprawled and thrown and bent and contorted herself in defence of the Dutch goal. All afternoon it had been her against the world, the town's only remaining soldier. Finally the sandbags crumbled. Finally the gates fell. Paralluelo put in the cross, Van der Gragt stupidly put out her hand, Caldentey scored her penalty off the post.
And so finally, the Dutch started to play. What if they had shown this kind of enterprise earlier? As injury-time began, Victoria Pelova slid the ball through, more in hope, out of the reach of Katja Snoeijs. But what was this? Van der Gragt trooping out of defence, the retiring centre-half deciding to spend her final international minutes up front, feasting on a tiring defence. And truly this was a central defender's finish, a shot of all consonants and no vowels, a thud so agriculturally primal it really belonged in a museum next to some cracked pots and a prehistoric medieval plough.
Extra-time was played on the head of a pin. Spain again tried to force things, failed to force things. Beerensteyn, her tank still full of fuel, ran through and shot just wide. In the 110th minute she hooked a bouncing ball clean over the bar from six yards. "That was the moment," Netherlands coach Andries Jonker admitted afterwards, and Beerensteyn was still holding her head a few seconds later when Hermoso held the ball up and played a perfect through ball into the path of Paralluelo.
And so finally, Spain could have their moment of grace. Paralluelo's shot was left-footed, as sweet as song, as sweet as youth itself, hitting the net a couple of inches above the ground. No longer would this be Austria on penalties in 2017 or Megan Rapinoe in 2019 or Georgia Stanway in 2022. No longer the great underachievers. No longer so nearly. The time for fretting over the past is over. Now is a time for grand dreams and beautiful visions.