The remains of at least 189 decaying bodies were found and removed from a Colorado funeral home, up from about 115 reported when the bodies were discovered two weeks ago, officials said Tuesday.
The remains were found by authorities responding to a report of a foul odor at the Return to Nature funeral home inside a decrepit building in the small town of Penrose, Colorado.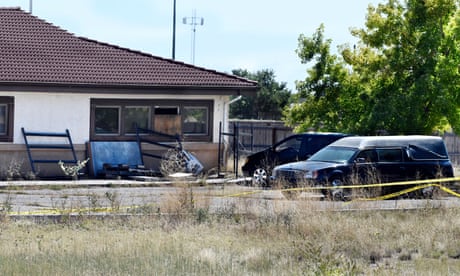 Efforts to identify the remains began last week with help from an FBI team that gets deployed to mass casualty events like airline crashes. Fremont sheriff Allen Cooper described the scene as "horrific".
The discovery came after the owners of the Return to Nature funeral home missed tax payments in recent months, got evicted from one of their properties and sued for unpaid bills by a crematory that quit doing business with them almost a year ago.
A day after the foul odor was reported, the director of the state office of Funeral Home and Crematory registration spoke on the phone with owner Jon Hallford. He acknowledged having a "problem" at the Penrose site and claimed he practiced taxidermy there, according to an order from state officials dated 5 October.
Authorities responding to an "abhorrent smell" entered the funeral home's neglected building with a search warrant 4 October and found the decomposing bodies.
Attempts to reach Hallford, his wife Carie, and Return to Nature have been unsuccessful. Numerous text messages to the funeral home seeking comment have gone unanswered. No one answered the business phone or returned a voice message left Tuesday.
The company, which offered cremations and "green" burials without embalming fluids, kept doing business as its problems mounted.
Under Colorado law, green burials are legal, but state code requires that any body not buried within 24 hours must be properly refrigerated.
Colorado has some of the weakest rules for funeral homes in the nation with no routine inspections or qualification requirements for funeral home operators.
As of last week, more than 120 families worried their relatives could be among the remains had contacted law enforcement about the case.
El Paso county coroner Leon Kelly has said it could take weeks to identify the remains found.
There's no indication state regulators visited the site or contacted Hallford until more than 10 months after the Penrose funeral home's registration expired. State lawmakers gave regulators the authority to inspect funeral homes without the owners' consent last year, but no additional money was provided for increased inspections.